Everything you need to know about Breast Augmentation
Genetics was once the sole dictator of everything breast; its size, shape and position. No longer. We sit down with Dr Tan Ying Chien, Consultant Plastic Surgeon at SW1 Clinic, today to clarify burning questions about breast augmentation surgeries and debunk myths about them. We explore why breast augmentation surgeries like facelifts have been gaining popularity as well as the options available to safely design and achieve our ideal boobs.
1. Why are more women seeking to enhance their breasts?
Dr Tan: A woman can be unhappy about her breasts due to their small size or shape. As breasts also change with time and factors such as weight changes, pregnancy and breast-feeding, a woman may not be able to adjust to the way their new breasts look after these changes. Hence, with the advent of technology and easy access to information, more women are open about seeking ways to enhance or correct their breasts.
Breast augmentation procedure is hitherto one of the most common plastic surgery procedures performed in the United States, and is getting increasingly common and widely accepted in this part of the world. Many major plastic surgery units in big cities in China such as Beijing and Shanghai perform as much as 1000 cases of breast augmentation a year.
2. What are the ways available to achieve desired breasts?
Dr Tan: Breast enhancement includes both breast augmentation with implants and fat transfer.
The women of the 21st century have better implants to choose from. Implant quality has improved. The implant shell is stronger, yet thinner. Furthermore, most silicone breast implants in the market now are cohesive gel or "gummy bear" implants. Unlike the regular silicon gel implants, the silicon gel in these "gummy bear" implants does not leak out in the unlikely event of a rupture. Another interesting development is a better understanding of the use of anatomical or teardrop shaped implants. One common complaint of the traditional round implant is that it makes the augmented breast look round and unnatural.
Anatomical implants definitely give more natural looking breasts.
Anatomical silicone breast implants offer patients superior outcomes when compared with round implants.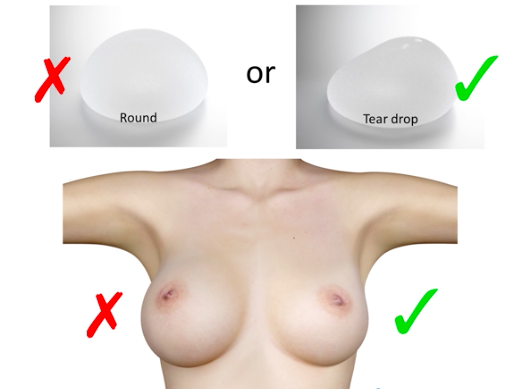 There is a question of what is the optimal shape for a breast implant. Should it be round and fill the breast envelope or teardrop to shape the breast by functioning both as a filler as well as an internal framework for the existing breast tissues? The answer seems to be rather clear. Women desire breasts that are fuller but at the same time look natural. The anatomical/teardrop implant can fulfill that requirement. Furthermore, the teardrop implants also come in a variety of heights. This allows the surgeon to use implants of different heights to correction asymmetries in the existing breast or chest.
Read More: 5 things you didn't know about Breast Implants
Fat transfer allows patients to use their own fat to enhance desire areas such as the breasts and buttocks. At the same time, the donated fat is removed from undesired areas such as the tummy. So patient will end up with for example, fuller breasts and flatter tummies. In other words, it is a 2-in-1 procedure.
3. What're the differences between them?
Dr Tan: Each has its own advantages and disadvantages.
Breast augmentation involves the placement of an implant, which is a foreign body, into the body via an incision. But it enables the surgeon to correct both the size and the shape of the breasts. Furthermore, medical grade silicone is one of the most extensively studied foreign material for implantation and has been deemed to be safe.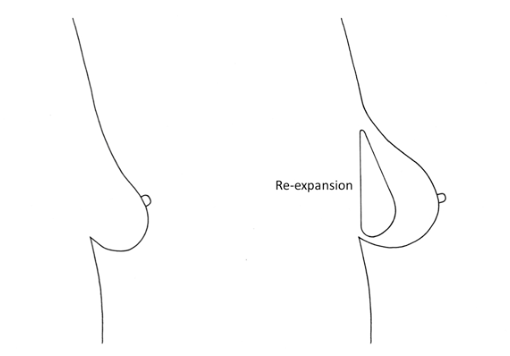 (Image shows implants can be used to add volume and re-expand the breast.)
Fat transfer uses the patient's own fat. It is a 2-in-1 surgery, allowing the patient to recycle the unwanted fat. It can be performed via 5 mm long incisions that will be almost invisible after healing. However for patients with limited amount of fat, as there would be a limit to the volume that can be removed and hence re-injected back into the desired areas. For this group of patients, results will be less than ideal. And for those who desire relatively larger volume of fat to be injected may have to have the procedure repeated as there is a limit to the amount that can be injected during each session.
Read More: How to Get a Great Cleavage An Insider's Guide
4. What are the choices when it comes to incisions to insert the implant?
Dr Tan: Breast implants can be inserted via 3 different incisions:
a) along the lower breast crease (inframammary incision)
b) along the edge of the areola (the pigmented area surrounding the nipple)
c) along a crease in the arm pit (axillary incision)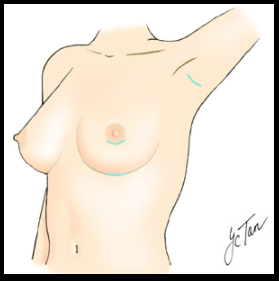 Each of these incisions has its own advantages and disadvantages. The plastic surgeon will discuss with the patient the most appropriate incision to achieve the most desired outcome.
5. What is the most common procedure you have done at your clinic?
Dr Tan: I see an increasing number of my patients opting for Breast Augmentation, a procedure that involves inserting implants into the chest to enlarge the breasts.
Many factors need to be considered before one undergoes breast augmentation. Many of these factors are related to the patient's anatomy. These include amount and quality of the breast tissue, symmetry of the breast and chest wall, shape of the torso and height of the patient. Other factors would be the desired size and shape, type of implant, surgical incision as well as the position at which to place the implant (underneath the breast or underneath the chest muscle).
Read More: 4 Beauty Issues (or Body Parts) We Never Knew Existed
Breast Augmentation aims to give the breasts a fuller and lifted look. At SW1 Clinic, our breast augmentation procedure is popular as the process includes getting simulated results via the most advanced Vectra 3D imaging system, which are extremely close to the actual results according to our patients' feedback.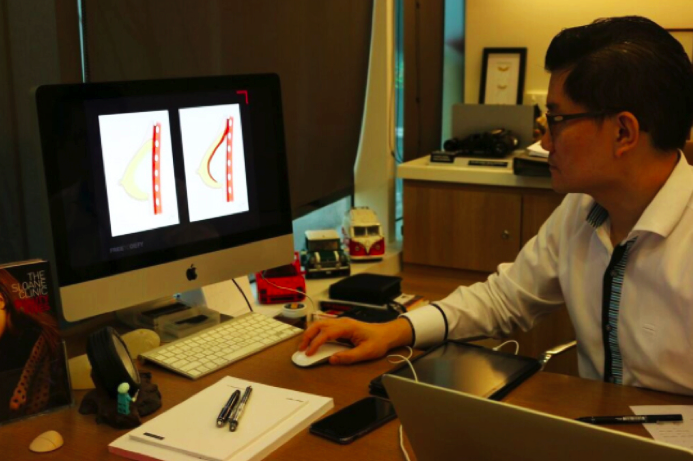 6. Is there any down time for Breast Augmentation?
Dr Tan: Actual recovery time after Breast Augmentation varies between patients. Other factors such as whether the implants are above or beneath the chest muscles also play a part. The recovery period is slightly shorter if the implants are placed above the chest muscles since the muscles are not disrupted.
Dr Tan: Generally patients will experience soreness and tightness over the chest for a few days after the procedure. There is also some limitation of upper limb activities for the same period. At SW1 Clinic, we advise patients to resume light gym activities after a month and full gym activities after 3 months. Follow-up consultations are necessary for doctors to monitor the patient's recovery progress.
Read More: 5 Surprising Boobs Facts that you didn't know
7. Is there any relationship between breast implants and breast cancer?
Dr Tan: Researchers from The National Cancer Institute (NCI) of the United States conducted one of the largest studies on the long-term health effects of silicone breast implants, and found no association between breast implants and the subsequent risk of breast cancer.
Many other studies have also found that should women who have breast implants develop breast cancer, there is no delay in breast cancer detection. They are also not found to be diagnosed with later-stage breast malignancies, are not at increased risk for breast cancer recurrence, and do not have a decreased length of survival.
8. What do you think are three most important things to know before undergoing breast augmentation?
Dr Tan: In my view, these are the 3 things one needs to know about breast augmentation.
1. Breast augmentation is currently a very safe procedure with a short downtime.
2. Breast augmentation has no relationship to breast cancer and does not affect future breastfeeding.
3. Breast implants do not require removal if there are no issues with them.

Dr Tan Ying Chien graduated from the National University of Singapore (NUS). He then became a member of the Royal College of Surgeons of Edinburgh and was later awarded his Master of Medicine in Surgery from NUS. Dr Tan was a recipient of Health Manpower Development Plan (HMDP) scholarship and have trained at the world-renowned hospitals including Chang Gung Memorial Hospital in Taipei, Taiwan and at the Singapore General Hospital (SGH). Dr Tan was previously a Consultant Plastic Surgeon at The Sloane Clinic Plastic Surgery Centre but is now a Plastic Surgeon at SW1 Clinic.